---
Mystery Shoppers – Join Us for Free!
Our mystery shoppers NEVER pay to become a shopper!!
We pay our mystery shoppers promptly and fairly!
---
VIDEO
"How to Complete a SkilCheck Self-Storage Mystery Shop"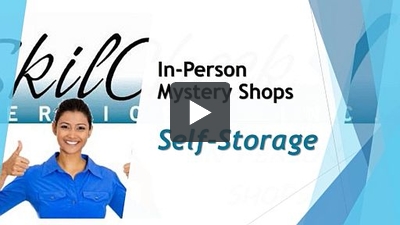 ---
SkilCheck Services needs mystery shoppers in every state from Hawaii to Maine and up into Canada!  Our in person mystery shoppers are held to high standards and are expected to be reliable and timely in getting their reports in to us.
Our mystery shops are the industry's best. We are looking for mystery shoppers to assess our clients' companies and concentrate on all aspects of the sales process and be responsible for turning in their mystery shopping evaluations correctly and in a timely manner.
As a mystery shopper, SkilCheck will send you to a place of business to help determine how the company's customer service and presentation is being portrayed to their customers. 
What We're Looking For:  Our mystery shopper is sent to a shop after receiving a comprehensive mystery shop evaluation form to be completed after the visit.  The mystery shopper scrutinizes everything from parking lot cleanliness to the manager's customer service. The mystery shopper is asked to carefully take note of the sales presentation and customer service given during the mystery shop.
The Recording:  Each mystery shop is to be audio recorded by the mystery shopper.  Each mystery shop location will have given permission to record their employees' presentations.  The mystery shopper can use many different means of recording the presentation…more details can be discussed with the project manager who helps set up the shop.
The Evaluation:  Details about the appearance of the shop location are noted by the mystery shopper. Each item that is observed during the shop is noted and given a point value. As the company manager presents the property, their customer service skills are also noted and given a point value at the end of the shop.
Combined with our telephone mystery shopping program, SkilCheck's in person mystery shopping is top notch!
Some details to consider:

You do NOT pay to be a SkilCheck in person mystery shopper.  We pay YOU!
SkilCheck does not reimburse for mileage or gas for mystery shops.
You must have access to a computer or smart phone and an email account.
You must have reliable transportation.
Computer literacy is important!